18G SMA coaxial RF connector for PCB design
With the popularity of wireless applications, the demand for SMA coaxial RF connector is growing exponentially. Board to board RF connector and SMA coaxial RF connector are among the top choices for test and measurement communication, broadcast and wireless technologies. For antenna applications, they are usually designed SMA coaxial RF connector used from DC to 18 GHZ frequency range, with 50 ohm.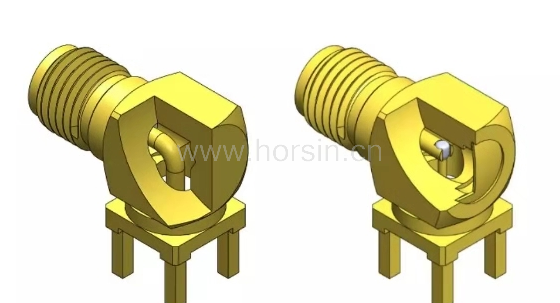 On the market of many SMA coaxial RF connectors using orthogonal configuration as the main reference point, hold the impedance at 50 ohm. Due to internal mechanical limitations, single pin and two pin designs are most widely used. Horsin technology co,.ltd designers have 12 years of experience in the design of high frequency coaxial RF connectors, designing single pin right Angle connectors to minimize signal loss.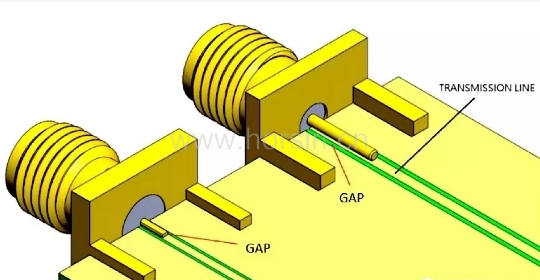 Another consideration in the design of right-angle SMA coaxial RF connectors is the volume of air around the contact, because impedance mismatches usually occur at the bend of the center contact design, the volume of air and PTFE must be calculated precisely to minimize impedance mismatches. The volume of air around contacts in rectangular SMA coaxial RF connectors has a direct effect on impedance mismatch.
There are several ways to optimize the transmission line with the end transmitter connector, including the design to accommodate various PCB thicknesses. These options provide different levels of mechanical stability and affect the design of the transfer line on the PCB. The contact area between the welded end of the center contact and the PCB transmission line is the key to achieve impedance matching and good transmission. When the impedance deviation in the contact area is small, it is easier to achieve higher frequency.

In order to reach 50 ohm impedance matching, ideally transmission line on the PCB should be designed to have low impedance, to compensate for the welding end and meet the contact area of a transmission line impedance increase. For frequencies above 6GHz, smaller and thinner flat pins can be used on the transmission line to reduce the impact of impedance mismatch. In these types of high-frequency applications, cylinders usually require more effort to achieve acceptable impedance due to their mechanical structure.
SMA coaxial RF connector is used widely on 3G, 4G LTE, 5G, WIFI, blue-tooth and other LOT communication systems, medical, industrial, data communication and telecommunications markets. SMA coaxial RF connector are usually optimized for frequencies below 6GHz, and the SMA connectors provided by Horsin technology can operate in the frequency range from DC to 18GHz, providing greater design flexibility for market demand. Welcome to feel free contact with our sales team: sales@horsin.cn